A recent (and now closed) Request for Information (RFI) summarised the General Support Utility Programme (GSUP) requirement as…
The Army are seeking market information as to military light utility platforms as part of an initial scoping of options to replace Land Rover and other similar vehicles as part of the General Support Utility Platform Programme. Companies are invited to provide information on current and developing military utility platforms. Variants of interest include General Support, Ambulance and Fitted for Radio particularly when these are all included within the same vehicle family. Platforms should be no more than 3.5T and be driven on Cat B license (potentially less ambulance variant).
Although the RFI has closed, and as we have seen from DVD2022, a number of contenders have emerged, this article will take a look at the options.
Land Rover Replacement History – Operational Utility Vehicle System (OUVS)
There is always a history.
90 and 110 Land Rover Defenders entered service with the British Army in 1985, mostly in General Service and Fitted for Radio variants. Specialist types entered service soon after; ambulance, Snatch, V8 GS, Rapier towing and special forces.
On April 1st 1997, the first Defender XD Wolf (Truck Utility Light High Specification / Truck Utility Medium High Specification) entered service, with the 300TDi engine and a completely new design from the 90/110s.
All of them were in service by the end of 1998 (they didn't mess around then!).
The final quantity of the XD Wolf was;
1,411 TUL (Short Wheelbase)
6,514 TUM (Long Wheelbase)
The General Utility Support Programme (GSUP) can reasonably trace its roots back to the Operational Utility Vehicle System (OUVS) programme from 2003. The programme was launched in early 2003 and announced at the Defence Vehicle Dynamics (DVD) show by Lord Bach in the same year.
OUVS would replace…
Land Rovers (TUL/TUM)
Pinzgauers (TUM(HD))
Reynold Boughton RB44s (Truck Utility Heavy (TUH))
The programme requirement was for several thousand vehicles across all three services, split between light and heavy sub-categories, all of them non-protected.
OUVS (Small); with a payload of two to three tonnes
OUVS (Large); with a payload of four to five tonnes.
This payload bracketing was logical, with the new Support Vehicle taking over at 6 tonnes and up (that would go on to become the MAN SV vehicles)
OUVS attracted great interest from the defence automotive industry, it was going to be an extremely large vehicle order and the procurement method envisaged a number of shortlisted vehicles taking part in a FRES like 'Trials of Truth'. Early indication in the press seemed to favour Mercedes Benz with a G-Wagen and Unimog combination.
Snatch controversy and the obvious need for protected patrol and support vehicles
June 2007
Ann Winterton Conservative, Congleton

To ask the Secretary of State for Defence

(1) what plans there are to replace each of the variants of Land Rover used by the armed forces; and whether replacements will be part of the Future Rapid Effects System programme;

(2) what consideration has been given to track width of vehicles fulfilling the armed forces Land Rover commitments in the future.

Adam Ingram Minister of State (Armed Forces), Ministry of Defence

It is intended that in future most of the roles currently fulfilled by Land Rover based vehicles will be undertaken by vehicles procured under the Operational Utility Vehicle System (OUVS) programme, which is separate from the FRES programme, or by vehicles such as the Panther command and liaison vehicle. The OUVS requirement will cover a range of vehicle attributes, including wheel base.
By 2007, the programme was still in progress but it could not ignore the reality of operations in Iraq and Afghanistan. Not only did the required quantities increase, but so did protection, requirements now included the ability to be fitted with ECM and appliqué protection.
Some of the early 110s were also refurbished in 2007.
November 2007
Lindsay Hoyle Labour, Chorley

To ask the Secretary of State for Defence whether Land Rover has been invited to participate in the tender process for the new defence vehicle; how many vehicles are included in the tender; what the size is of the vehicle in the tender; and which companies were included in the tender process.

Bob Ainsworth The Minister of State, Ministry of Defence

holding answer 27 November 2007

It is envisaged that up to 16,000 vehicles could be procured under the Operational Utility Vehicles System (OUVS) programme to replace the in-service light utility vehicle capability currently provided by truck utility light, truck utility medium, truck utility medium (heavy duty) and truck utility heavy. The exact user requirements have yet to be fully defined, but it is expected that a range of vehicles will be required, providing payloads of between one to six tonnes.

OUVS is currently in the concept phase and an invitation to tender has not yet been issued. An expression of interest advertisement was published in both the European Official Journal and the Defence Contract Bulletin in September 2007, which has attracted over 50 responses from industry, including Land Rover.
The Invitation to Tender (ITT) was planned to be issued in 2009 with Main Gate set for 2012, but manufacturers were briefed that OUVS would be an incremental programme over many years. It was also emphasised that OUVS vehicles would not be used as Protected Patrol Vehicles, even though the initial requirements included some protection elements.
This clear distinction between patrol and utility vehicles was reinforced by a Parliamentary Answer that described an earlier joint UK/USA working group.
November 2008
Liam Fox Shadow Secretary of State for Defence

To ask the Secretary of State for Defence what discussions he has had with the US administration on the potential for UK participation in the Joint Light Tactical Vehicle programme.

Quentin Davies Parliamentary Under-Secretary, Ministry of Defence, Parliamentary Under-Secretary (Ministry of Defence) (Defence Equipment and Support)

Defence Ministers have not had any discussions with the US Administration about the Joint Light Tactical Vehicle programme. Since the establishment of the USA/UK Joint Light Tactical Vehicle (JLTV)/Operational Utility Vehicle System (OUVS) Working Group in July 2008, a number of discussions on participation have taken place by officials.

The JLTV capability is a replacement for HUMVEE and performs both a utility vehicle and patrol vehicle role. It therefore goes beyond the requirement for OUVS and the two parties have agreed that there is not enough synergy to warrant collaboration on the acquisition of vehicles at this time. The Working Group does however, continue to share research and development between the two programmes.
The US Joint Light Tactical Vehicle (JLTV) and German Armoured Multipurpose Vehicle (AMPV) were of interest to OUVS but were ultimately not considered because of this clear distinction between utility and protected mobility.
For the initial down select, Mercedes proposed a Unimog and G-Wagen combination, Land Rover entered a 6×6 Defender (a version of that in service with the Australian Army) whilst simultaneously introducing their Extra Heavy Duty Defender that could accommodate a gross vehicle weight of 4.5 tonnes with a 300amp power system.
Thales proposed the Copperhead variant of the Bushmaster and Iveco, a new version of the LMV/Panther
Of the 30 manufacturers that expressed an interest, the shortlisting processes reduced this in 2008/2009 to Babcock, General Dynamics, IVECO, Krauss-Maffei Wegmann, Renault, Lockheed Martin, Mercedes and Navistar Defense.
Lockheed Martin with their unusual-looking but reportedly very capable Adaptive Vehicle Architecture (AVA) vehicle.
Renault and Land Rover announced they would partner, the down-selected Renault Sherpa to be assembled at the Land Rover plant in Solihull. With Land Rover not making the cut, this was an obvious win for both parties, if only to lessen the political impact of selecting a French vehicle over the iconic British Land Rover, tough sell that one.
General Dynamics went with an Eagle IV and Duro IIIP combination and Navistar, their MXT for both variants.
Each one of these vehicles was protected in a way that Pinzgauer, Land Rover and RB44 were not.
The MoD was adamant that OUVS would be non-protected but each of the down-selected vehicles was just that, something was not quite right with OUVS.
RB44 was withdrawn from service in 2010, leaving the Land Rover and Pinzgauer vehicles remaining, joined by a small number of Mowag Duro for specialised roles.
OUVS was then effectively cancelled with a deferral, there was simply too much going on in the Middle East and assumptions about minimal protection in OUVS were simply untenable (despite the down-selected vehicles being protected)
The National Audit Office Major Projects Report 2010 described OUVS as…
The requirement for the Operational Utility Vehicle System was reviewed in 2007 by the Army, as lead-user, when the need for vehicles with enhanced protection, capacity and mobility was identified. The Single Statement of User Need stated that 'Operational Utility Vehicle System would provide a robust, easily supported system, comprising operational utility vehicles that are able to carry light cargo (up to 6T) or small groups of personnel, integrate as many special-to-role systems as possible and which can operate in diverse climatic and topographical conditions worldwide, in order to support and contribute to land (including land air) and littoral manoeuvre operations'. This capability would be a key supporting enabler for offensive combat operations providing the following roles: unit level logistic cargo vehicle, systems carrier, commanders mobility platform, liaison and personnel mobility platform.

The Operational Utility Vehicle System programme was deferred for two years as part of the Departments 2010 financial planning round. On current assumptions, the competition will re-start in 2012
The cost to the MoD to this point was forecast to be £10 million, with no information on how much the industry had invested.
A 2010 Parliamentary Question addressed the deferral of OUVS.
Nick Harvey Shadow Secretary of State for Defence

To ask the Secretary of State for Defence what assessment he has made of the effect of deferring the Operational Utility Vehicle System programme for two years; and what assessment he has made of the likely trends in (a) production and (b) deployment of small and medium support vehicles during that period

Quentin Davies Parliamentary Under-Secretary, Ministry of Defence, Parliamentary Under-Secretary (Ministry of Defence) (Defence Equipment and Support)

The deferral of the Operational Utility Vehicle System (OUVS) competition will give the MOD the opportunity to consider the latest products from industry, including those from the companies that withdrew from the original OUVS competition. This will allow the MOD to determine the best method of delivering an operational utility vehicle capability for the future. During the period of the two year deferral, the Tactical Support Vehicles purchased as Urgent Operational Requirements will fulfil the OUVS role in Afghanistan. The Department will conduct a thorough review of the commercial and acquisition strategy for OUVS during 2010. This will consider production and delivery schedules, and the capability requirement informed by our operational experience.
The Multi Role Vehicle – Protected (MRV-P) emerged in April 2012, and the MoD published a contract note for a pre-concept contract.
Specialist and Logistic Vehicle Project Team (SLV PT) in conjunction with a yet to be selected vehicle trials and demonstration authority will be running a multi-role vehicle – protected (MRV-P) pre-concept study; It is planned to hold the study the week after the defence vehicle demonstration which is being held on 20th & 21.6.2012. Designed to determine the quantity of platforms that conform to the high-level requirement and fall within the desirable Unit Price Cost (UPC) of 250 000 GBP, the study will look at a number of vehicles in the 5 to 15-tonne range that are modular to may be considered as being able to form the base vehicle for and other programmes such as future protected battlefield multi-role ambulance.

The MRV (P) programme is currently at the pre-concept phase and has evolved from the operational utility vehicle system (OUVS), with significant changes in the total numbers and protection level. The vision is for one variant to fulfil all roles, using plug-and-play communications and flexible seating layouts. MRV(P) is not seen as appropriate for providing utility vehicle support to rapidly deployable forces (i.e. first-in, airborne or amphibious), where a lighter, more agile, capability is required. There are currently no KURs or URD for MRV (P)
That was more or less the last time anyone heard of OUVS, MRV-P, in sharp contrast, specified a baseline protection level of more than none and was more akin to the actual vehicles short-listed.
MRV-P is a completely different programme (and one I have written about a number of times) with a different set of requirements, principally in the protection area. As we have seen from DVD 2022, it seems the MRV-P has now also ceased, with the requirements being redefined, again.
OUVS merged into MRV-P, both of which resulted in no firm orders or any vehicles entering service, and so back to General Utility Support Programme (GSUP), or OUVS in old money.
Full circle, 2003 OUVS (via 2012 MRV-P) is now 2022 GSUP
Sadly, OUVS and MRV-P are yet more examples of the British Army being unable to articulate a set of requirements and stick with them.
Industry and public funds have been wasted, two decades have flown by.
It remains to be seen if GSUP will go the way of OUVS.
Land Rover Replacement – General Support Utility Programme (GSUP)
Not a great deal has been released by the MoD about the General Support Utility Programme (GSUP), the RFI is an early-stage scoping activity, and there is some distance to go before firm user requirements are defined.
What can we deduce from…
Land Rover and other similar vehicles.
A recent FOI request revealed the out-of-service date for Land Rover and Pinzguaer.
The RFI also states…
Variants of interest include General Support, Ambulance and Fitted for Radio particularly when these are all included within the same vehicle family.
It should be noted that Pinzgauer, Land Rover R-WMIK and Land Rover Battlefield Ambulance all have an Out of Service Date of 2030, but in the table above, Duro and other Land Rover variants are not listed.
A recent contract award revealed 65 variants of Land Rover and 31 Pinzgauer variants are in service.
The Conventional Vehicle Systems (CVS) Post Design Services (PDS) Design Authority (DA) contract will commence on 1st September 2022 and is to run for 3 years and 7 months with an additional 4 +1 option years to extend the period of the service.

This contract applies to all platforms listed below:

Platform: Land Rover Wolf, Variant: 65, Fleet size: 6410

Platform: Pinzgauer, Variant: 31, Fleet size: 873

Platform: Snatch 2b, Variant: 1, Fleet size: 20

Platform: RWMIK, Variant: 1, Fleet size: 187

Platform: Trailer Lightweight, Variant: 1, Fleet size: 7837
Accepting that the MoD is at a very early stage of concept definition, this article assumes GSUP will include all variants of Pinzgauer, Duro, and Land Rover.
Many of the 90s have been disposed of as they are unsuited to carrying BOWMAN.
By 2030, even the youngest Land Rover in service with the British Army will be three decades old, having given excellent service.
Roles, Requirements and Users
OUVS was tri-service, GSUP appears at first glance not to be, the RFI stating that it is for the Army. Probably wise not to read too much into this but it would be an interesting diversion if the other services tendered their own utility vehicle replacement.
Am not going to attempt to list all those 65 and 31 variants as many will likely include winterised and waterproof versions, different equipment fits and shelter designs, but some typical models are shown below.
Short wheelbase (TUL) – Hard Top
Short Wheelbase (TUL) – Soft Top
Long wheelbase (TUM) – Hard Top (including Fitted for Radio (FFR))
Long wheelbase (TUM) – Soft Top
Long wheelbase (TUM) – Station Wagon
Long wheelbase – Battlefield Ambulance
Long Wheelbase – Weapons Mount Installation Kit (WMIK)
The WMIK has an equally complex history, with Refurbished (R-WMIK) and R-WMIK+ variants in service with Light Cavalry and airborne units.
The original Truck Utility Heavy (TUH) Defender XD was dropped in favour of the RB44 but after this was withdrawn, the Pinzgauer was used in its place. The 1 Tonne Land Rover Forward Control was also replaced by Pinzgauer.
There might also be some specialist variants, like the Watchkeeper support vehicle or Light Role NBC within scope.
It is also not certain if any of the specialist Duro vehicles are within scope.
There are more potential roles and variants for GSUP than probably any other vehicle programme.
It also appears that none of the GSUP vehicles is protected, beyond the basics, and maybe that is a good thing, it creates very clear role delineation, drives down weight and cost, and allows maximum commercial design exploitation.
The successor to MRV-P will cover any protected vehicles by the look of it, with clear blue water between that and GSUP.
This is a Good ThingTM
Weights and Dimensions
Although the roles might be numerous, defining the constraining weights and dimensions is probably easier to articulate, although the publically available RFI extract does seem somewhat vague (expect the detailed RFI is clearer)
OUVS had two clear weight classes, based on payload. OUVS (Small) at 2-3 tonnes and OUVS (Large) at 4-5 tonnes, this still makes perfect sense, the OUVS operational analysis being perfectly valid.
With nothing between a Land Rover and MAN SV, I think we miss the RB44, well, at least the potential offered by the RB44, not the vehicle itself.
Maximum weights are also important because they influence the category of licence to drive them. Driving licences require management and training, they are an important issue for the British Army. Although there are some slightly different rules for those who passed their driving test before 1997, the rules are below.
Car
B: Qualifies a person to drive a vehicle with a Maximum Authorised Mass (MAM) of up to 3,500kg with up to eight passenger seats and with a trailer of up to 750kg MAM.
BE: Qualifies a person to drive a vehicle with a Maximum Authorised Mass (MAM) of up to 3,500kg with a trailer, and if the person qualified after 2013, tow a trailer that weighs up to 3,500kg MAM (with a maximum width of 2.55m and length of 7m)
Medium Size Vehicles
C1: Qualifies a person to drive vehicles between 3,500 and 7,500kg MAM (with a trailer up to 750kg). This is the most popular licence in the UK for commercial vehicles,
C1E: Drive C1 category vehicles with a trailer over 750kg. The combined MAM of both cannot exceed 12,000kg. Although this is less common, it allows heavier trailers to be towed than a C1.
Large Vehicles
C: Vehicles over 3,500 tonnes with a trailer up to 750kg
CE: This used to be called the Class 1 licence, essentially for large articulated trucks. It allows the person to drive a Class C vehicle with a trailer of over 750kg
And this is before we get into passenger-carrying vehicles, hazardous cargo and other regulation and licencing issues. On top of this, the Army will overlay training and authorisation for specific vehicles (or types of vehicles) within the fleet.
It is tremendously complicated and can have significant cost implications.
When I wrote about vehicle transportability recently, I concluded that are a number of breakpoints for vehicles, dictated by everything from weight to helicopter sling loading. Licences were included in these breakpoints.
Towing capacity is also important for GSUP vehicles.
My Thoughts on Meeting GSUP Requirements – Replacing the Land Rover
General Support Utility Vehicles and the GSUP programme are certainly more complex than meets the eye, the sheer number of variants and roles demonstrate this.
My thinking goes something like this;
Maximise 'White Fleet'
Can we refurbish
Be Pragmatic about Vehicle Weights
Recognise the importance of LIS, Net Zero and Levelling Up
Options
Expand
Maximise the White Fleet (in Green)
The MoD outsources the provision and management of the non-operational fleet of cars, vans, trucks and specialist vehicles to Babcock under the Phoenix II contract. I think this is due for recompete this year.
The Military Provost and Guard Service use Ford Ranger XL pickup trucks.
We already have a mature contract in place, we already have experience with utility vehicles provisioned through lease partners, why not just do more?
The cost profile would have to take into account the vehicles are unlikely to be treated gently, would need some sort of off-road recovery provision and likely replacements frequency more than usual.
The British Army has a lot of calls on a finite budget, we all understand just how much of its equipment is obsolete, if we can provide more general support vehicles through a lease and fleet management approach, this might release more budget for more pressing matters.
Is Refurbishment an Option?
Can we keep the existing fleet in service beyond 2030?
The basic technical requirements for GSUP are pretty much the same as what we have now, there are no great leaps forward planned.
There is an active after-market for Land Rover Defenders in the UK and abroad, many components are available as refurbished, and importantly, even manufactured new. Hobson Industries, Richards Chassis, and Bowler Motors, to name but three, and there are others.
A few years ago, Ricardo also proposed a refurbishment of the existing Pinzgauer fleet.
As mentioned above, the fleet of both Land Rover and Pinzgauer vehicles is hardly new, but if there is an option to eke out yet more life from them then we should at least examine it.
A 5-year contract to add 10 more years perhaps.
One could easily see a veteran owned/staffed business, in conjunction with the Babcock, fulfilling this. It would also support wider governmental objectives on the skills agenda and regional levelling up.
Refurbishment might also decrease the support and logistics impact compared to a wholly new vehicle, these are important considerations.
The Bit Where I Ask A Favour
TD is a hobby for me
I strive to provide decent content for no cost but hosting, software and services add up.
You can help me keep the show on the road by…
Clicking an advert
Dropping a few quid in the Kofi jar
Or even buying some Think Defence merchandise over at Red Bubble
Thanks in advance folks, your support really is appreciated
Pragmatism on Vehicle Weight
How much militarily useful payload can a 3.5-tonne vehicle actually carry?
Low vehicle weights can be extremely important for some roles, especially those reliant on small aircraft and helicopters, but these seem to be moving to increasingly specialised vehicles.
If a vehicle is required to be carried by helicopters then I would propose they be a separate category.
If all we are doing is giving the QM a means of moving rations on a range day, see my point on White Fleet.
The weight and trailer weight issues are important because they will influence the total cost of ownership of any given vehicle fleet, but it might not be as simple as we think. Keeping a vehicle under 3.5 tonnes will mean fewer C1 licences overall but might mean more actual vehicles because of payload requirements.
Every single vehicle in the system needs qualification, inspection and maintenance.
Artificially keeping under 3.5 tonnes just to save on licences could be a false economy, same with trailers. Although using trailers to squeeze extra payload out of a BE licence is fair enough, trailers are another piece of equipment on JAMES, subject to inspection and maintenance requirements like other vehicles. Nothing is free, and trailers can impact mobility also.
As the Army moves to heavier protected vehicles, it might simply be more practical to mandate C1 qualification at Phase 2 training for pretty much everyone. This is more challenging for the Army Reserve, no doubt.
The ambulance and WMIK variants are likely to be over 3.5 tonnes anyway, so for a general support vehicle, we just have to recognise the limitations of requiring vehicles to be under that weight.
For these reasons, I would propose a less rigid approach to vehicle weight, accepting that fewer but larger vehicles might be a better route.
The Importance of the Land Industrial Strategy, Net Zero and Levelling Up
We cannot ignore them, simply put.
GSUP should be aligned with the Land Industrial Strategy, Integrated Operating Concept and national objectives, and for me at least, this means…
Be markedly less dependent on fossil fuels
The MoD has funded research into hybrid vehicles for over two decades, going back to TRACER and QinetiQ HED in the late nineties.
The latest is the £63million Protected Mobility Engineering & Technical Support (PMETS) contract which has demonstrated the latest hybrid technology on a Foxhound, Jackal, ATMP and others, together with Magtec and NP Aerospace
It needs to move beyond trials and into production.
Given the lower weights involved and proximity to commercial systems, one would imagine GSUP offers a lower-risk means of moving into implementation. Using GSUP to support the broader national and defence effort in this area would make perfect sense, maybe not straight away, but as part of a development spiral. This is a good background article on the British Army's approach to emission reduction.
Levelling Up is a whole of government initiative to improve the economic fortunes and wellbeing of all parts of the UK, especially the English Regions and devolved nations. Like many such initiatives it can mean different things to different people but there is no doubt about the seriousness that this government places on it, and the financial backing it is providing.
The Government has also committed to double research and development investment with a target of spending 2.4% of GDP on public and private R&D by 2027. Some of this R&D will go towards contributing to the now legally enshrined 'Net-Zero by 2050' objective.
Government-supported initiatives include the National Productivity Investment Fund, Industrial Strategy Challenge Fund and the Strength in Places Fund.
The Land Industrial Strategy (LIS) describes the Governments approach to industrial matters;
An innovative, globally competitive, and highly skilled sector in the UK that can develop, deliver, and sustain the capabilities we need in the land domain, collaborate domestically and internationally on key defence projects, export overseas, and contribute to our national prosperity.
This does not mean the MoD will purchase every item of equipment from UK suppliers but does set out some broad ways of working to achieve the objectives.
A strategic approach to acquisition that incorporates a wider definition of national value, including Operational Independence and Social Value
A longer-term approach to investment and partnering that increases confidence in the UK's investment pipeline and provides the stability needed to invest in new technologies and skills;
An enhanced approach to portfolio management to create a steadier drumbeat of investment, with
an increasing focus on mission systems, where cost-effective to do so; and
A more collaborative approach between MOD and industry, based on cooperative and transparent cultures and behaviours
General Support Utility Vehicles are included within the Protected Mobility category
The LIS is an excellent document, not least because there is a recognition of the problems of the past.
The Land Industrial Strategy, Levelling Up and Net Zero is intrinsically linked, the MoD cannot ignore this in any of its equipment programmes, and GSUP is no exception.
Land Rover Replacement Options
Literally, you could throw a stick at any country and it would land on a contract to replace legacy 4x4s with a modified SUV or pickup truck.
SUV and Pickup Truck Derived Vehicles
All might have additional power generation capacity, convoy lights and a NATO standard towing pintle but they are more or less civilian designs, with green paint.
SUV-derived options include G-Class, Land Rover Defender, Ineos Grenadier, Volkswagen Amarok and Jeep J8s, there are plenty of donor vehicles to choose from.
A guest author (Andrew B) wrote an article last year that looked at some of these, concluding that whilst the new Defender and Grenadier had some merit, the G-Class from Mercedes Benz would be hard to beat.
The image below shows a Rheinmetall CAracal, based on the G-Class 464 series chassis.
The SUV market has undoubtedly moved to the higher-cost luxury end of the market, leaving many traditional Defender owners with no other practical options but to look at pickup trucks from Nissan, Ford, Toyota and Isuzu for example.
With a plethora of electronic driving aids, their mobility cannot be doubted but this comes at a cost.
Supacat has partnered with Jeep for the GSUP requirement after previous attempts to offer a Land Rover Discovery-based Light RoleVehicle.
The J8 is 4850mm (L) x 1877mm (W) x 1995mm (H), Weighs (GVW) 3200 kg and has a payload of 1000 kg and towing weight (braked) of 2495 kg. Based on the Jeep Wrangler JK platform, it is assembled in Gibraltar by AADS
Looking further afield (and not strictly SUV-derived), Eurovesa in Spain offers the Vamtac LTV
Certainly worth a look.
Agrale from Brazil also has a good range of utility vehicles.
France has introduced the Ford Everest-based VT4 Trapper (in two versions) from Arquus
The Netherlands, same route, different vehicle; Volkswagen Amarok.
Glomex Military Supplies from the Czech Republic recently won an order for 1,200 modified Toyota Hilux vehicles, and in Finland, something similar using a local integrator called TruckMasters.
A couple of years ago, the RAC went for a large fleet of Isuzu D-Max pickup trucks, this type of vehicle is becoming increasingly common in the UK amongst large fleet buyers.
Each will be equipped with an innovative All-Wheels-Up recovery system.
There are a number of integrators such as Pickup Systems that offer drop-in bodies.
The two main alternative providers for pickup truck-derived military utility vehicles for the UK are Jankel and Ricardo.
Ricardo developed a Ford Ranger T6-derived military pickup in 2019
The general service Ranger concept created by Ricardo is intended to be available with a range of powertrain options, including Ford's powerful and refined 213 PS 2.0-litre EcoBlue Bi-turbo diesel powertrain, which produces 500 Nm of torque for excellent load-hauling capability. This is mated to an advanced new 10-speed automatic transmission for easy, economical driving. Key features of the adaptation designed by Ricardo include options for a rollover protection system; a ring mounted weapon system, similar to that used in the WMIK; an armoured ballistic underfloor and armoured glass; lightweight but heavy-duty front and rear bumpers; skid plates for the radiator, powertrain and fuel tank; rock sliders and improved wading/fording protection; NATO IRR paint/camouflage and 4-point seat harnesses. In addition, the 24V electrical system is enhanced to provide the power requirements and EMC protection expected of modern defence vehicle applications, and the chassis can be equipped with upgraded springs, dampers, brakes, heavy-duty wheels and all-terrain tyres, offering greater ride height and more versatile towing capacity. In delivering this project Ricardo has worked closely with Polaris Government and Defense, in particular for support in the areas of onboard power management and C4i (command, control, communications, computers and intelligence) integration.
One would expect Ricardo to offer something very similar for GSUP
Another strong contender is Jankel, a company with a long pedigree in offering pickup-derived military vehicles.
Jankel offers four vehicles based on either the Land Cruiser or Hi-Lux platforms in two or three-axle variants, with the FOX Rapid Reaction Vehicle in service with Belgian special forces.
As can be seen from the video, Jankel also offers a larger vehicle range based on the Mercedes Bez Unimog platform.
If the requirement leads to crossing the 3.5-tonne threshold, an alternative to simply using a different vehicle (like the Jankel Unimog for example), is to convert to a 6×6 configuration or simply add an extra non-driven axle. These conversions are commonplace in Australia and with our increasingly close defence relationship, something that could be leveraged.
A good example of this is a company called Australian Patrol Vehicles
There is also a company in the UK doing similar things (and I wonder if there is a commercial relationship), called Prospeed Motorsport, marketing as 6×6 Hiload.
They take a standard Toyota Hilux, change the chassis and add an additional driven axle to create a larger payload area and to increase the payload to 3 tonnes, with a gross vehicle weight of 5.6 tonnes.
Prospeed has made a number of variants and proposed others.
Any one of these would be a good option, they are low-risk, and we would be joining a big club of users and tapping into global supply chains to reduce support costs.
This is the low-risk sensible option.
Ibex or Fering
If we wanted to take a little more risk, but maximise UK industry involvement, Net Zero and skills development, there is another option.
Sitting aside the Land Rover aftermarket sector are a small number of SME manufacturers of offroad sports and commercial vehicles that would offer options for a maximal approach to the Land Industrial Strategy.
Ibex Vehicles are made in Sheffield, to a constantly evolving design that has stood the test of time. Some of their vehicles are still in service 30 years after being purchased and used every day. They are available in a wide number of variants, from short wheelbase to two-seaters and longer wheelbase variants.
An extra long wheelbase and 6×6 version are also in service
Although no ambulance variant exists, it is certainly possible to see the design adapted to suit a box body of some kind, for the FFR and Ambulance GSUP requirements.
What is interesting is the design is extremely flexible and able to use component sets from the global volume market, an important consideration for vehicles that will be used overseas.
It is extremely simple, rugged and built with commercial or agricultural use in mind. The image below shows an extended 2+2 chassis cab model.
Its rear ladder frame section provides a mounting plane for rear-mounted bodies, and it has an enlarged 270ltr fuel capacity, air suspension, remote reservoir shocks, diff locks, super heavy duty axles and drivetrain, full underbody protection and body armour, stealth mounted winch and pre-filtered raised air intake
There is an elephant in the room, Ibex are an SME and don't produce vehicles at the volumes required.
DML and Supacat manufacturing a couple of hundred Jackals is of course, somewhat different to manufacturing thousands of Ibex vehicles, but are we in a rush? Again, we could create a separate commercial entity to maximise skills development, apprenticeships and veteran opportunities.
Easy to dismiss this option I guess, but I quite like it, and there is even a transition to an electric version, the Munro.
Although Munro and Ibex are not connected in any commercial capacity.
This brings me to another option, the Fering Pioneer.
Whilst Ibex have been going for decades and have a very mature design, Fering is pretty much new on the scene.
The vehicle has been designed, developed and tested from the ground up with every aspect of the car delivering utilitarian use. This is your next 'go anywhere, anytime' vehicle which allows you to explore the deserts of Africa one week and the snow drifts of the Arctic circle the next.
It uses modular construction and a range of power options, with payloads of up to 1.5 tonnes whilst still having a kerb weight of only 1.5 tonnes.
Could it scale to support the ambulance requirement, is it too immature, and would it be too much of a risk?
Industrial and Van Derived Vehicles
Whilst we can all probably see that SUV and Pickup Truck derived military vehicles are increasingly common, a less explored option is the industrial utility or van-derived vehicle.
The Hako Multicar M31 4×4 has a maximum allowable mass of 5.6 Tonnes with a payload of 3 tonnes and can tow 3.5 tonnes.
The Multicar actually the base vehicle for the KMW Mungo, in service with the Heer.
The KMW Mungo ESK variant has a maximum weight of 5.9 tonnes and can carry 10 personnel and their equipment to a total distance of 500km with a top speed of 90kph. Designed for carrying cargo, the Multi-Purpose Vehicle has a payload of 1.5 tonnes and uses a skip loader rather than a hooklift in order to reduce height.
Whilst these are specialist vehicles in service with the German armed forces, they would also make a practical utility vehicle, the M31 is actually 300mm shorter than the Defender.
There are plenty of other examples of small agricultural and municipal vehicles from manufacturers in Europe.
The permanent 4-wheel drive Aebi MT760 has a payload of 3.5 tonnes with a maximum vehicle weight of 6.5 tonnes, and can also tow a trailer weighing 3.5 tonnes.
The Unitrac 112, has slightly higher specifications, 5.07m long, 2.08m wide and 2.47m high. With an empty weight of 3,475kg, it has a maximum payload of just over 6,000kg. It can also tow a maximum weight of 10,000kg.
But within the same general footprint of these industrial vehicle types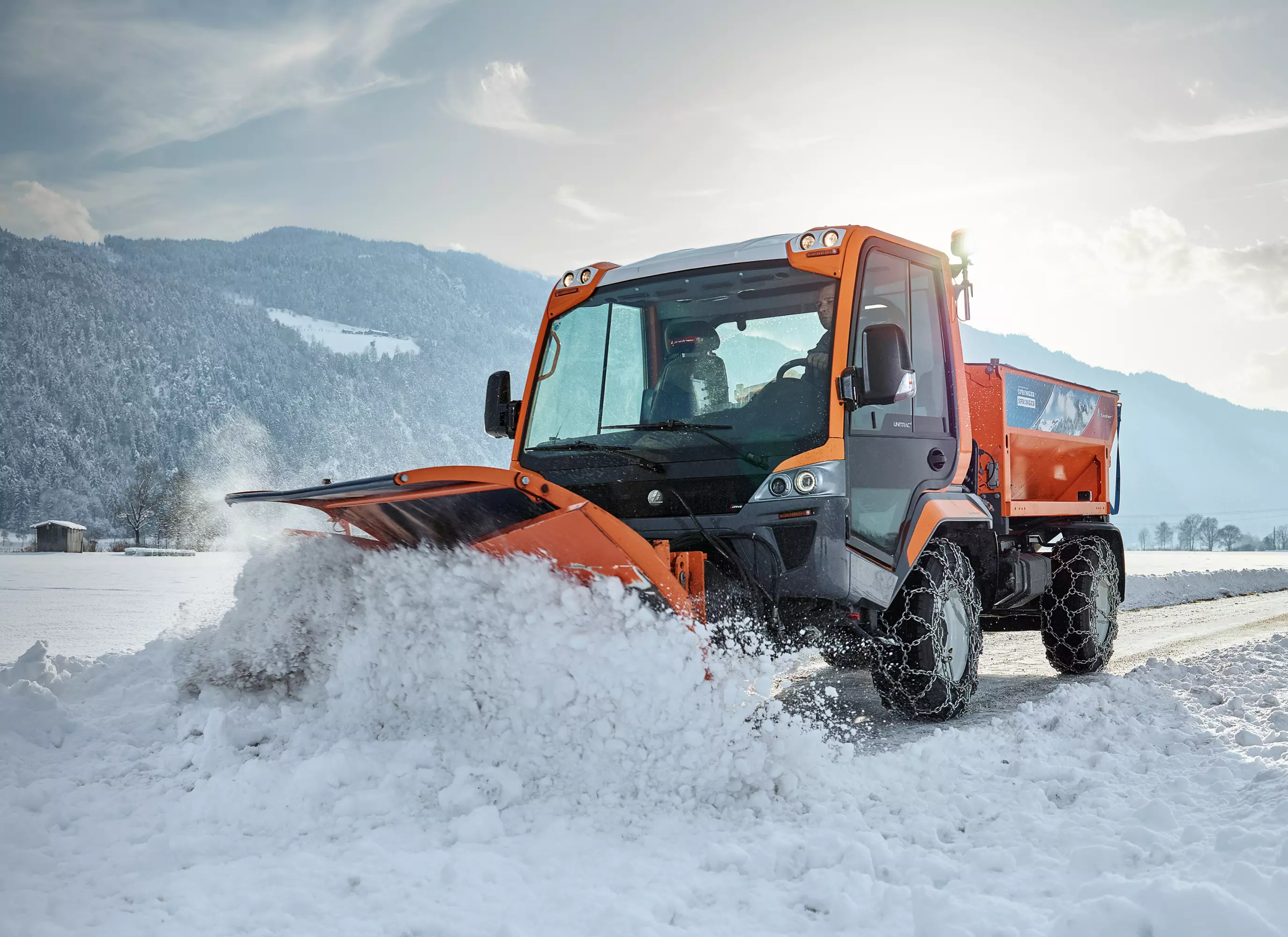 It also has a number of hydraulic tool attachment points, four-wheel steering, a Perkins diesel engine and can have a tipper body fitted. An interesting feature of the Unitrac is its ability to quickly de-mount its load bed, like a European swap body container.
It would be quite easy to see this feature exploited in multiple logistics, communications, command posts, weapon carriers, and combat engineering roles.
In the van-derived market, Mercedes Sprinter, Iveco Daily and Volkswagen Crafter are all now available in factory-fit all-wheel-drive versions. Third-party integrators also extend this to other manufacturers.
The Iveco Daily 4×4 is available in van, crew and chassis cab models, each only 200mm longer than a Defender.
Derived from the Daily 4×4, the Military Utility Vehicle (MUV) is available in a number of cab configurations, and even a minibus.
Depending on configuration gross vehicle weight can be up to 7 tonnes, with a 4-tonne payload. The vehicles all have blackout lighting, NATO standard towing facilities, night vision-compatible instruments and other military features.
The Dutch company DMV also uses the Iveco Daily platform, the latest version being the Anaconda, entering service with the Royal Netherlands Korps Mariniers.
Another pair of interesting commercial vehicle-derived designs are from Auchleitner in Austria, the Mantra 4×4 and Carrier 4×4.
These are both in the same weight and payload class as the Daily 4×4 and MUV.
Torsus in the Czech Republic also makes some very capable off-road utility and passenger-carrying vehicles.
The minibus models got me thinking about mobility for a typical light-role infantry company.
With a pickup truck design, a company of 150 personnel would require over 35 such vehicles and drivers. Each would have an entry on JAMES and each would result in maintenance and inspection burdens significantly more than currently. But, it could all be done on a Category Licence (except the ambulance and any other heavier variants)
Move the dial to something like an Iveco MUV, Torsus Terrastorm, or Achleitner Carrier and yes, you would need C1 licences (and possibly PSV also), but you would only need 10 vehicles and drivers, plus maybe two or three more for cargo, and the specialised variants.
By thinking differently about licences, we might be able to provide significantly enhanced mobility and capability for those units traditionally without.
One of the most common uses for a Land Rover Defender 110 is with the Fitted For Radio variant, as a Squadron or Battery command post for example. At best, the interior volume of an FFR 110 is 2m3
So, we are forced to pitch a 9×9 tent off the back of it to generate a working room for the CP team.
Sometimes, we back-to-back vehicles.
The tent is carried in a trailer of course.
Imagine a larger vehicle.
Not only do you save time and improve agility (and thus survivability), but you also create a much more efficient and ergonomically working space.
The short wheelbase Daily 4×4 has a usable interior volume of 12m3, 10 more than an FFR, and not much less than an FFR with a 9×9 tent. Oh, and no trailer.
Command on the move.
Expand
Once we have a vehicle platform selected (and any of the options above would be good), it is not beyond the imagination to envisage how they could be expanded to light cavalry, artillery or combat engineering roles.
Some of these are obvious.
Some less so
Final Thoughts on Replacing the Land Rover (and Pinzguaer)
All of the options above would be good, all will have some UK industrial benefits, some might be obvious, others less so, but the MoD and British Army, after several failed attempts, should really be thinking about risk reduction.
Risk reduction is not just about the programme itself, the British Army is already heavily exposed to Rheinmetall and KMW, and it would be wise not to increase that exposure.
That would require some decision-making outside of the programme, perhaps at the ministerial level.
Whilst GSUP is notionally limited to 3.5 tonnes, there is a tacit recognition that for some roles such as ambulance and light gun towing, that will need to increase.
It would therefore make sense that whatever is chosen for GSUP has options for higher weights (and probably an extra axle) without requiring a separate vehicle.
While I like the idea of IBEX, being realistic about risk probably excludes this as an option, which leaves a couple of design choices.
Engine front pick-up derived (Ford, Isuzu, Toyota) using UK integrators to add additional military features
Cab over engine van derived vehicles like the Iveco Daily
Either of these approaches would deliver capable vehicles at low risk and reasonable cost, and that exploit large and global supply chains.